The first Roll-Out of the TPV-EGLI-Vincent was a great event. After 2 hours runtime without any technical problems, one can say that it passed successfully. The chassis is very agile, stable and accurate. This was advantageous for passing  slower riders "off the line". Also the striking bump in the apex of the "bridge curve" has been absorbed without problems. The TPV-EGLI-Vincent has the potential, no doubt, to cope with a tuned racing engine, and thus the current superbikes to teach the fear.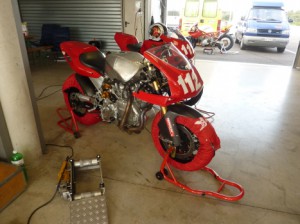 The TPV-EGLI-Vincent, ready to go, in the Pits at the Racetrack of Ledenon, South France.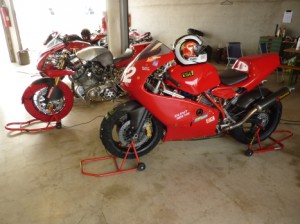 Of course, the good old EGLI-Ducati, ED984SSR, is attending.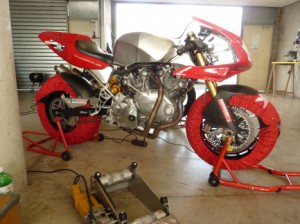 The Tyres are heated up, the Bike is ready for a very first ride on the Track.
Join us for two Laps on the challenging Racetrack of Ledenon. Please switch on your Soundsystem and do not hang off too much on your Officechair!
Read More