Experience three generations "Vincent" – motorcycles at the Swiss–Moto, stand of EGLI Motoradtechnik AG.
Also present: The TPV EGLI-Vincent
Stand: Halle 2, B20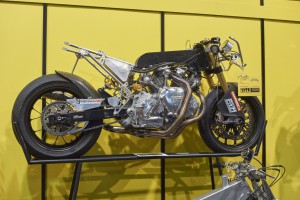 The TPV EGLI-Vincent prototype at the booth of  EGLI Motorradrechnik AG, together with an EGLI-Vincent (top right), a Vincent Black Lightning (bottom left) and an EGLI Honda (bottom right).
We thank the EGLI Motorradtechnik AG for the opportunity to present the bike in this amazing environment.